After I finished my 1st stressful semester at Emerson College, I flew back to Taiwan, which is my hometown, to enjoy my winter vacation. Before studying abroad, I always took the yummy Taiwanese foods and the warmer winter weather for granted. However, spending the past six months in Boston makes me miss Taiwan a lot. During my winter vacation, I jumped at the chance to immerse myself in Taiwanese foods and took advantage of the weather (which it felt like autumn) to shot my favorite preppy wardrobe staple – duffle coat.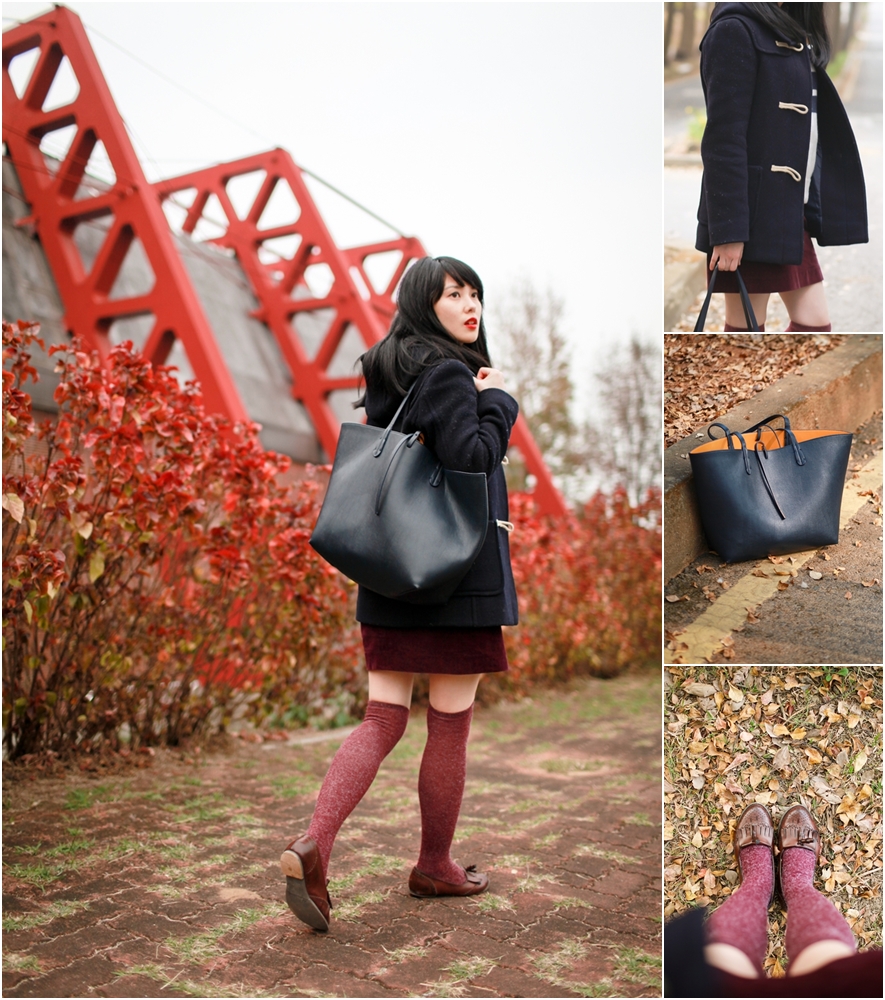 What I Wore
COAT
 │ UNIQLO ( similar HERE )
SKIRT

 │ BANANA REPUBLIC ( similar HERE )
BAG

 │ ZARA ( similar HERE )
SHOES │ NO BRAND ( similar HERE )
My Duffle Coat Sytle
Navy always cheers me up. I especially love the combination of navy blue and burgundy red in autumn and winter. 
I used to be obsessed with small satchels before. But I have fallen in love with large tote bags since I became a full-time student. I can pack my laptop, textbooks and everything in this ZARA tote, which I scooped during the sale season.
This pair of burgundy red thigh high socks is my another new try after my last attempt at colorful socks. Finally, I completed my look with these old and trusted leather tassel loafers.
Not only did I spend quality time with my family and hubby during my winter vacation, I also nourished my body and soul with yummy Taiwanese foods. Highlights are like beef noodle, chicken rice, wonton in chili oil, pork thick soup, glutinous oil rice, tempura, sweet & sour soup, dumplings, rice with stewed pork and stir-fries. It's sad that I cannot reproduce the taste in my Boston kitchen, so I seized the chance to eat as much as I could.
Time to pack. See you all next time in Boston!